The ACM Digital Library (DL) is the most comprehensive research platform available today for computing and information technology. Each year, roughly 25,000 newly published articles from ACM journals, magazines, and newsletters, as well as more than 500 annual conference volumes – representing nearly 20% of the world's scholarly computing literature – are added to the DL's complete full-text archive of over 600,000 articles.

befores & afters is a brand-new visual effects publication from VFX and animation journalist Ian Failes, an experienced freelance writer who has written for fxguide, VFX Voice, Cartoon Brew, 3D World and 3D Artist.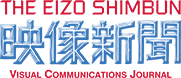 The Eizo Shimbun covers contents creation industry for more than 50 years. The Eizo Shimbun is published every week, 48 issues for one year. Its focus is visual communication methods in the industry. Also, the newspaper covers on science and technology, regulations and policy. The newspaper reported first SIGGRAPH conference for Japanese readers in 1974.